Everyone knows Chase Utley, Ryan Howard, Cliff Lee, Raul Ibanez, and Cole Hamels. However, there's one player who really burst onto the scene this year: Jayson Werth.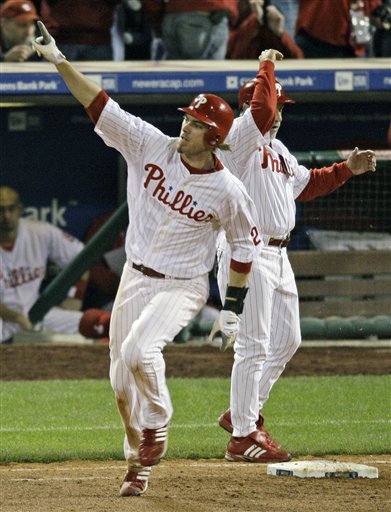 Werth, the Phillies' right fielder, is of a baseball pedigree. Both his stepfather Dennis Werth, his grandfather Dick Schofield, and uncle (also) Dick Schofield. This year, Werth made his first All-Star team and hit .268/.373/.506/.879 with 36 homers and 99 batted, while posting a 5.7 UZR/150 in right. His wOBA was .382, which matched his 2008 total.
Until this year, Werth's time with the Phils was marked by massive platoon splits. Werth absolutely mashed against lefties, but was pretty paltry against righties. That changed a bit this year, though. While Werth continued to punish lefties to the tune of a 1.080 OPS, he improved his OPS vs.RHP to .806 from .767 in '08 and .760 in '07. It's worth noting that most of Werth's RHP OPS in '07 and '08 featured good on base percentages, but very low slugging percentages. Basically, the on base skills were always there against right handers, but the power showed up this year.
Werth has continued his hot hitting in the playoffs. Between the NLDS and NLCS, Werth has hit .281/.395/.813/1.207. That .813 slugging is just absolutely ridiculous. Of his nine in the post season, six of Werth's hits have gone for extra bases (five homers and a triple).
Jayson is a bit of a late bloomer, having his two breakout seasons ('08 and '09) during his age 29 and age 30 seasons. However, he's still a great player and despite the appearance in St. Lous this season for the All-Star Game, he's still relatively unknown. This is definitely a guy the Yankees–especially their lefties–will have to keep an eye on during the World Series.