The Yankees opened up their season with a 9-7 loss to the Boston Red Sox, but plenty of the Yankees organization hasn't started playing yet. Since no minor league games have been played yet, I figured we'd take this edition of Minor League Monday to tackle what's ahead for the Yankees Minor League system. With that in mind, this won't follow the usual format…so here's a look at the must knows for each team's opening day.
Scranton Wilkes-Barre Yankees (AAA)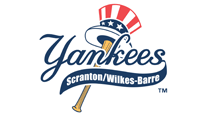 Opening Day: April 8th, 2010
Time: 7:05 PM
Opponent: Buffalo Bisons
Where: PNC Field (Home)
Trenton Thunder (AA)
Opening Day: April 8th, 2010
Time: 7:05 PM
Opponent: Erie Seawolves
Where: Mercer County Waterfront Park (Home)
Tampa Yankees (A-Advanced)
Opening Day: April 8th, 2010
Time: 7:00 PM
Opponent: Lakeland Flying Tigers
Where: George Steinbrenner Field (Home)
Charlestown Riverdogs (A)
Opening Day: April 8th, 2010
Time: 7:05 PM
Opponent: Lexington Legends
Where: Joseph P. Riley, Jr. Park (Home)
As for the Rookie Leagues, I won't delve into them now, but it won't be something I forget during the regular season. Now, for some roster breakdowns. I'll take a look (if some of the BBD staff doesn't beat me to it) of some of the teams we haven't covered yet here at Bronx Baseball Daily throughout the week. Here's a few that have already been covered.
Rosters:
Scranton Wilkes-Barre Yankees
Trenton Thunder
Charleston Riverdogs
For a look at the rest of the Yankee affiliate rosters, check out this link.
Minor League Thoughts
I want to end with a few thoughts of some people to keep an eye on this year. As some of you may know, I've spent a few years working for Pinstripes Plus in Scranton and covering the Triple-A prospects. That being said, there's a big place in my heart for the Scranton Wilkes-Barre Yankees. Here's a few that I think will see some time in New York this year that I'm personally exicted to see, even if it's come the expansion for the 40-man roster.
Jesus Montero
Kevin Russo
Mark Melancon
Ivan Nova
*Players are currently on SWB Yankees roster. Does NOT include anyone from AA or below, despite a variety of players I can't wait to see. Stay tuned throughout the next few weeks as I continue to highlight individual minor league players and the moves they make throughout the system.
For obvious reasons, there's going to be excitement around Montero. That being said, Kevin Russo impressed me during Spring Training and nearly earned a spot on the Major League Club over Ramiro Pena. I wouldn't be shocked if you saw Russo in the Bronx sooner than later, especially if any injuries happen to hit the big league club. As for Nova and Melancon, I don't think you'll see Nova until the roster expands but if there's a need, Melancon could find his way to the Bronx before then. These are obviously just a few players, but they're a few personal favorites of mine that I wanted to make sure I touched on.
Next week, we'll be back with the first true edition of Minor League Monday, as the season will officially be underway for the majority of the minor league ball clubs. I've also decided to allow a vote for "player of the week", so each week, I'll present a few minor league-rs who are up for that particular week's award. The winner will be selected by YOU. Tune in next week to vote!