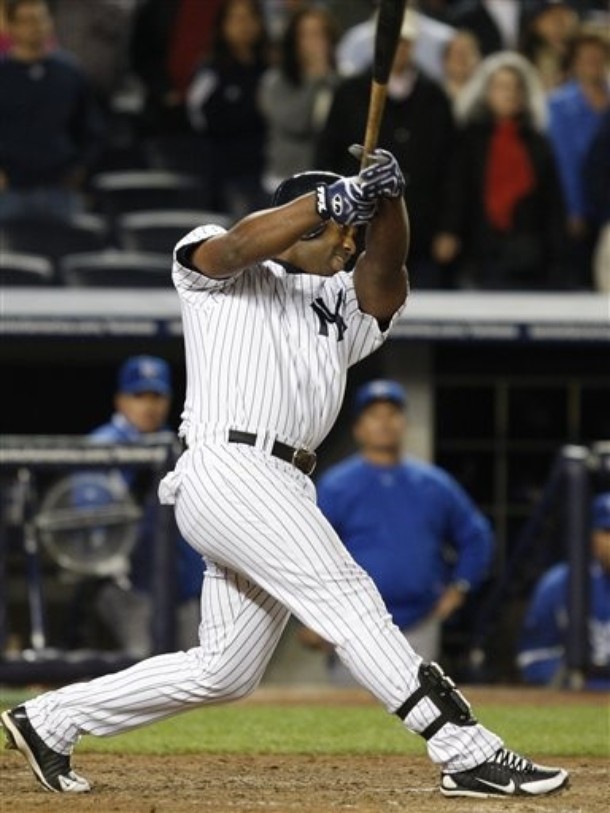 According to Joel Sherman, the Yankees have called up first baseman Juan Miranda for tonight's game against the Detroit Tigers.  Miranda, who bats lefty, will most likely platoon with Marcus Thames in the DH spot until Nick Johnson returns from his wrist injury.
Miranda is off to a so-so start in Scranton this season, hitting .260 with 5 HR and 15 RBI.  The batting average is not what we're used to seeing from Miranda, but he's backed that up with a .371 OBP through 28 games.  He'll be used as the DH against right handers, and Thames will continue DH-ing against lefties.  Miranda's big lefty bat will be a welcome addition to a team with Nick Johnson and Curtis Granderson on the DL.
We may see Miranda in the lineup tonight with right handed pitcher Rick Porcello on the mound, but the lineups have yet to be released.  I'll post an update here when the lineup is set.
UPDATE (3:38): No Miranda tonight, Alex Rodriguez will be DH-ing and Ramiro Pena will play third.
No word on who is being sent down to make room for Miranda, but likely suspects are Kevin Russo, Boone Logan and Ivan Nova.  I assume the Yankees will keep Nova up for one more game just in case Javier Vazquez throws another stinker tonight.  Russo appears to be the most likely candidate since Robinson Cano is healthy and has started the past two games.
UPDATE (6:04): With news arising that Alfredo Aceves will be headed to the DL tomorrow (back injury), it appears the Yankees have not called up Juan Miranda.  This is possibly because they didn't want to send down another reliever and diminish the bullpen any further.  A roster move will happen tomorrow, so keep your eyes peeled.
UPDATE (6:29): Apparently Miranda's plane had trouble and kept him from getting to Detroit on time.  In other news, the game tonight has been rained out and they'll play two tomorrow.  The first game starts at 1:05.